Dr. Surinder Singh Basi
,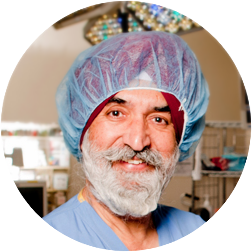 Dr. Surinder Singh Basi, M.D. is a Surgical Assistant with the Thoracic Surgery Department at Brampton Civic Hospital. He completed his medical training in India at the University of Delhi, which was followed by an internship at St. Joseph's Health Centre in Toronto. Dr. Basi is a Family Physician and has been in practice since 1987. He is also a surgical assistant with the General Surgery Department at the Etobicoke General Hospital. Dr. Basi has a special interest in assisting Video-Assisted Thoracic Surgeries.
Dr. Basi is married and has three children. He is also a new grandfather. He enjoys daily walks and relaxing at home while listening to music.