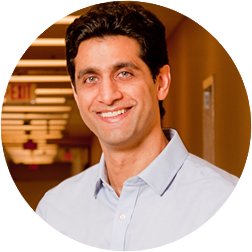 Dr. Irshad is Chief of the Division of Thoracic Surgery at William Osler Health System.
He obtained his medical degree at McGill University, where he also completed his formal training in General Surgery. During his residency he completed his Masters of Science in Experimental Surgery.
He then trained in Thoracic Surgery at McMaster University, mentored by great Thoracic Surgeons, like Dr. John D Miller and Dr. Tom Kirby. He credits these two surgeons for teaching him the fundamentals of Thoracic Oncology and encouraging him to continually pursue excellence in surgery.
Dr. Irshad had a keen interest in Minimally Invasive Thoracic Surgery. Following his training at McMaster, he obtained a prestigious fellowship at the University of Pittsburgh Medical Centre. He trained under the direct tutelage of the world-renowned thoracic surgeon, Dr. Jim Luketich. Over the past 20 years, Dr. Luketich has revolutionized the care of the thoracic patient, perfecting techniques that surgeons across the world are using. Following his training at UPMC, Dr. Irshad launched his practice at WillIam Osler Health System. Dr. Irshad invited his mentor to the Brampton Civic Hospital in 2008, where they teamed up to perform a surgery for a live "Telesurgery Event" (see pic below)
Dr. Irshad published the first Canadian series of Minimally Invasive Esophagectomies, and presented his results at a national meeting in 2009. He was featured on CTV National News for his innovations in minimally invasive surgery for the lung cancer patient. Since then, many surgeons have asked him for mentorship to develop their own skills in minimally Invasive surgery. He has dedicated his career to the advancement of new and innovative techniques in Thoracic Surgery, driven by a desire to provide the best possible care for his patients.